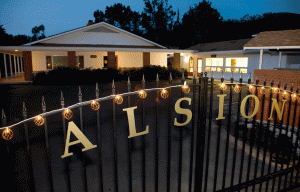 Parents face a big responsibility in choosing a good private middle school in the Bay Area for their children.
You understand the importance of finding a quality school that prepares young people for life beyond the classroom, but finding such a school takes patience and a bit of research.
Consider Alsion Montessori, a middle and high school centrally located in the city of Fremont. Established in 2001, Alsion Montessori has earned a reputation of excellence for parents seeking a good private school in the Bay Area.
We've taken all the attributes of a good private school and created an educational experience that is unique to Alsion Montessori. We serve Bay Area students with:
Demanding academic standards. The Early College High School offers courses from nearby Ohlone College to provide students with a solid foundation for college, especially the UC or California State systems. Core courses in math, social science, English, science, and foreign language are rigorous in both middle and high schools.
Dedicated teachers. Our faculty possesses both outstanding academic credentials and life experience that infuses their instruction with energy and pragmatism.
Stimulating extracurricular activities. As part of a well-rounded education, students participate in clubs such as the Astrotech Group, business ventures such as Market Day, and academic challenges such as World Savvy. Biome Trips give students hands-on exposure to the biology, geology, history, and geography of several California habitats.
Learn how a good private school in the Bay Area can benefit your child. Call Alsion Montessori today at 510-445-1127.
Alsion's Emphasis on the Individual Student
Through small class sizes and personalized instruction, our school meets the individual needs of students. Group projects encourage collaboration but also serve to help students develop their own abilities and grow in self-confidence.
With classes of around 10 students, teachers are able to monitor individual progress and allocate the proper amount of attention to each student.
Alsion Montessori is located in Fremont near the cities of Hayward, Pleasanton, Milpitas, Union City, and Santa Clara. Its East Bay location makes it ideal for children of commuters to Silicon Valley.
If you are looking for a good private school in the Bay Area that encourages diverse experiences, independent thinking and college prep among its students, call us today at 510-445-1127. Or fill out our online form and we will contact you.