In 2000, the founders of a private secondary school near San Jose outlined the keys to a successful education:
A talented staff of administrators and teachers who are committed to the educational and social development of young people
A partnership with parents that values their involvement in all aspects of the school, inside and outside the classroom
A well-rounded, dynamic curriculum that focuses on the proven principles that Maria Montessori brought forth more than a century ago.
These ideologies were used as the framework for Alsion Montessori, the private secondary school near San Jose. Today, Alsion is a well-regarded junior and senior high school in Fremont, CA with a long list of high-achieving alumni.
Parents are invited to visit our East Bay campus, located within an easy commute of the cities of Pleasanton, Hayward, Milpitas, Union City, Santa Clara, and Silicon Valley, to see first-hand how Alsion fulfills its goal of providing outstanding college preparation for each student. Call 510-445-1127 to schedule a visit.
What Makes Our Private Secondary School Different?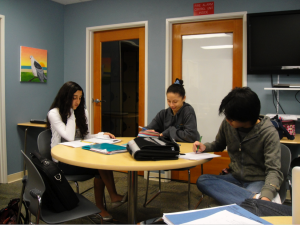 The dedication of faculty, administrators and parents to the well-being of each student is what separates Alsion Montessori from other private secondary schools near San Jose.
That dedication is evident in many ways:
The Alsion Community Association, our teacher-parent group, is the product of Alsion's philosophy that everyone can contribute to a child's education. Parents act as volunteers and participate in the operation of the school through fundraising, enrichment talks, social events and the governing board of the ACA.
Emphasis on preparing each student for college. Our curriculum is challenging and diverse, so every student has multiple opportunities to realize his or her potential in high school. In addition to rigorous core courses, Alsion offers the Early College High School, which includes the Ex-Terms enrichment courses program and extracurricular activities such as World Savvy Challenge and the No Left Turn Here Cafe.
Small class sizes offer the opportunity for meeting the needs of individual students through one-on-one instruction. Classes at Alsion Montessori are typically fewer than 20 students.
Call 510-445-1127 or contact us to learn more about Alsion Montessori, a private secondary school near San Jose.