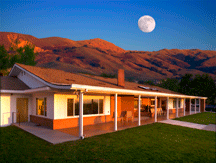 Our mission at Alsion Middle School and High School is to foster and nurture the holistic development of our students. This means promoting their growth intellectually, physically, emotionally, socially and psychologically. We strive to empower Alsion students to be global citizens with a deep and ethical understanding of their responsibilities to humanity.
Alsion is different educational experience:
Meaningful rigor without the high pressure stresses that are common in a more traditional setting
Hands-on experiential learning (several field trips, week-long biome trips, ex-term trips, gardening) inculcates a love of learning
Small class sizes with roundtable discussion formats, Socratic discussions and group collaborative projects
Individualized instruction inspired by Montessori principles
Emphasis on critical thinking skills, building independence and self-direction through original research, study of current affairs, personal choices and activities like Market Day, school paper "Witherly Heights", running own school cafe)
To achieve these goals, our Middle School uses the Montessori method of instruction. Our teachers, either certified by the American Montessori Society (AMS) or oriented by the North American Montessori Teachers Association (NAMTA), make Alsion a vibrant setting for mastery in the core subjects of art, communication, English, history, language, literature, mathematics and the sciences. That our 7th to 9th graders grasp these subjects firmly—through individualized instruction, hands-on academics, and self-propelled drive to learn—can be attributed to how our pedagogy follows the precepts of Maria Montessori.
Our High School, which is an early-college program, builds on the foundational work laid down by the middle school. From 10th to 12th grade, our students are immersed in a rigorous scholastic regimen that includes Advanced Placement classes and, for the most part, college courses. The accelerated and comprehensive nature of the program, in addition to extracurricular opportunities, prime our graduates for further studies in four-year universities and make them conscientious caretakers of the world we all inhabit.