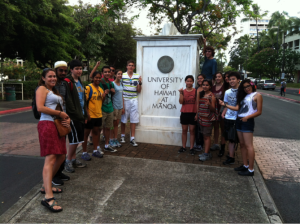 The remarkable success of Alsion Montessori, a top private school in the Bay Area, is due to a close-knit partnership of teachers, administrators, and parents who are dedicated to preparing young people for fulfilling lives.
With a focus on the students, this partnership established Alsion's middle and high schools more than 15 years ago, developing a lively, challenging curriculum based on the child-centered teaching methods of renowned Italian educator Maria Montessori.
As a top private school in the Bay Area, Alsion meets the needs of a diverse student body by offering a wide range of educational and extracurricular opportunities:
The Middle School addresses the special emotional and academic needs of adolescents. Core courses are supplemented with gardening projects, biome trips to locations such as the Yosemite Valley or Catalina Island, internships at local businesses, and community service weekends.
The High School emphasizes college preparation with an accelerated program of college courses, the business experience of the No Left Turn Here Cafe, Ex-Term enrichment trips around the U.S., and the annual World Savvy Challenge.
This well-rounded approach to academics in and out of the classroom has earned Alsion a reputation as a top private school in the Bay Area. Our graduates have gone on to attend some of the country's best colleges, including:
Scripps College, one of the distinguished Claremont Colleges
University of California schools in Berkeley, Santa Barbara, Riverside, Irvine, Los Angeles, San Diego, Santa Cruz and Merced.
Boston University
Brigham Young University, Provo, Utah
Duke University in Durham, North Carolina, and
Royal College of Surgeons, Dublin, Republic of Ireland
Alsion Montessori attracts students from Bay Area communities such as Hayward, Pleasanton, Milpitas, Union City, and Santa Clara. Call 510-445-1127 to find out how to enroll your child.
A Top Private School That's Close to You
Because commuting lengths greatly affect quality of life in Silicon Valley, location is a chief consideration for parents seeking a top private school in the Bay Area. Alsion Montessori is centrally situated in the East Bay community of Fremont, a relatively easy daily drive.
Distances to our campus from a few nearby cities:
Livermore, about 17 miles
Milpitas, about 8 miles
Pleasanton, about 12 miles
Santa Clara, about 18 miles
San Jose, about 30 miles
To schedule a campus visit to Alsion Montessori, a top private school in the Bay Area, call 510-445-1127.