Blog
Choosing the best private school for your child can be a challenging process. Some schools may not be the right fit for your son or daughter, despite having an outstanding reputation.
Established in 2001, Alsion Montessori offers a wide-ranging educational experience that places it among the best private schools in the Bay Area. Biome trips, community service, enrichment courses, and a program of early college courses, comprise a middle school-high school curriculum that enables each student to pick their personal path to college while growing in confidence and maturity as an individual.
What Alsion Offers Your Child
What makes for the best private school for your child? Alsion Montessori strives to set itself apart from other private schools in these ways:
Dedicated teachers, involved parents. Our highly credentialed faculty has experience both inside and outside the classroom. You can see for yourself their strong belief in the goals Alsion sets for its students. Our parents' group, the Alsion Community Association, is equally passionate about creating a successful atmosphere so students will thrive.
Middle school admission. Most students begin their time at Alsion enrolled in the middle school. In seventh grade, they become familiar with fellow students, teachers and the Alsion way. We gear our adolescent program toward the learning needs of young people.
A calm, intimate atmosphere. Alsion's small class sizes and modest overall enrollment contrasts with the congestion and impersonal feel of larger schools. Teachers are more flexible with lesson plans and able to adapt to each student's pace of learning.
An overall learning experience that prepares them for the future. A variety of electives, college classes, special projects such as the No Left Turn Here Cafe, a cafe operated by students, and intense Biome trips to distant parts of California complement a rigorous curriculum of core courses. Alsion graduates are self-motivated learners who leave Alsion fully prepared for success at distinguished schools such as Duke University, Boston University, Ireland's Royal College of Surgeons, Scripps and Harvey Mudd colleges, and the UC schools.
Contact Us to Visit the Campus
In addition to offering a quality learning experience, Alsion Montessori is ideally located for commuting families. Our campus is south of the 680 Freeway, near Mission San Jose and the cities of Fremont, near Hayward, Newark, Union City, and Milpitas.
Call 510-445-1127 today to learn more about why Alsion Montessori is the best private school for your child.
Alsion Private School Students Are Independent Thinkers
At Alsion, each student's educational experience is geared toward developing creative thought and a problem-solving mindset. Our teachers and administrators build a strong foundation by requiring that students master core subjects such as English, mathematics, science, social science, history, and a foreign language.
We reinforce that base of knowledge with a variety of extracurricular activities that inspire students to grow through challenging experiences outside the classroom.
The result: Alsion private school students become confident, independent thinkers. Years after graduation, our resourceful alumni continue to make wise choices in their careers and personal lives.
The History of Mission San Jose
Alsion Montessori middle and high schools are located in the East Bay district of Mission San Jose, named for the community that was established by Franciscan priests when California was Spanish territory.
A little history about Mission San Jose, which has a colorful past and deep ties to the Fremont area:
For the faculty, administration and students at Alsion Montessori in Fremont, we summarize the goals of a quality junior high school education in this sentence:
Development of the basic skills – academic, social, emotional and physical – that lead to a rewarding life in 21st century society.
Since our founding in 2001, Alsion Montessori has met the challenge of that all-encompassing statement by providing a well-rounded education that goes beyond the classroom.
Read more: The Various Goals of a Quality Junior High School Education
About Our Montessori School in Fremont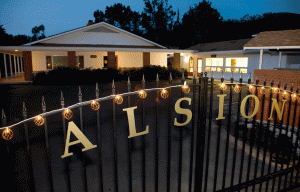 The faculty and administration is proud of the accomplishments of our Montessori school in Fremont, founded in 2001 and today one of the East Bay's most highly regarded private schools.
A cornerstone of Alsion Montessori's success is the adolescent program. Middle school students benefit from a learning approach that takes into account the physical and emotional changes they are undergoing.